The bridal jewelry is an integral part of Bride's Sola Shingar. Here, we take a look at Top 5 essential Bridal Ornament for Hands & Arms of every Indian Bride.

1. Bangles:
The beautiful bangles are one of the essential accessories for every Indian bride. The bangles are of different kinds. Let us take look at the most prominent kinds of bangles that brides adorn on the wedding day.
Chooda:
It is an ornament that you will see in every Punjabi bride's hand. The Chooda are not bought by the bride herself like normally is the practice but it is gifted to her in a ceremony by her maternal uncle (Mama Ji).  It is believed this loving gift of maternal uncle brings love, happiness, and good luck in newlywed's life. The brides goes on wearing it for 45 days.
Kangans:
The Kangan are broader and heavy than normal bangles. It has intricate work and gemstones studded to it. It comes up as a classy choice for important wedding related functions like Sangeet, Engagement and Wedding day. You can form an interesting pattern by combining them with bangles. Like after four bangles wear a set of two Kangan. It will give an attractive look.
Glass bangles:
The glass bangles are extremely famous with north Indian brides. It is seen as a sign of auspicious symbol of marriage. It brings luck and good health in life of newlywed. The shades famous with brides includes magenta, green and red.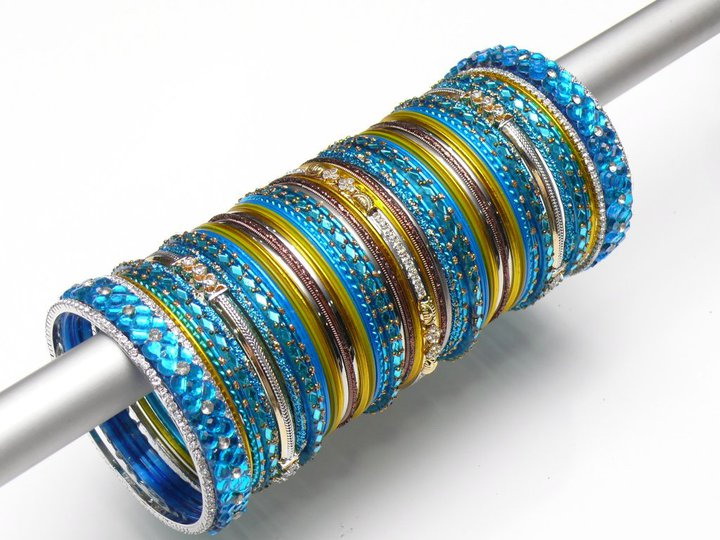 2    Bajuband:
It a decorative band carved out of gold and silver. It studded with colorful semi precious and precious stones in attractive pattern which gives it a captivating look.  It is tied at the upper arm. The would-be-brides go for Babjuband only if you are planning to wear sleeveless blouse.
3. Hathphool:
The word "Hathphool" is a combination of two Hindi words "Hath" means hand and "Phool" means flower. It is flowers shaped ring worn by the bride in her hand. Made of precious metal it was quite famous in the Mughal era. Now again, it is back in the fashion arena. It beautifully compliments the Heena and gives a heavily embellished look.
4.Kalire:
The Kalire is a beautiful ornament that looks similar to chandelier. The bride's unmarried sisters and cousins tie it to her hand. There is interesting ritual associated with it, when the bride leaves for her new home then all the unmarried girls gather at one place. The bride then shakes her hand on head of unmarried girls and whose head the Karire falls is believed to be the next one to get married.
5. Rings:
The bridal ornament is going to be incomplete without rings. It is an important part of Solah Shringar. The brides are seen wearing stunning rings made of precious metal like gold, silver and platinum. A wring that was worn with a purpose by brides in the past has made a comeback, it is called Arsi. It has got a mirror in the center of the ring. It helps the bride to see the refection of her handsome groom during the wedding ritual as she is covered in a veil during the wedding ceremony.