Sarees are worn as bridal dresses in many Indian states. Traditional sarees get the ultimate touch with designs for the bride. Rich with its silk, Chanderi, Banarasi and other sarees, they make ultimate designer bridal sarees with its stunningly appealing zari and other thread and stone works.

South Indian designer bridal sarees
Talking of the South Indian designer bridal sarees, the first saree which comes to every mind if the alluring and gorgeous Kanjivaram sarees! No wedding in South India has ever happened with a bride not wearing a Kanjivaram! This saree has reached other states also with designers and is a hot pick for a bridal wear. Who can forget Aishwarya Rai Bachchan wearing a golden Kanjivaram at her wedding? A south Indian origin, Kanjivaram has made it to many Indian states now. There are a lot other variety of silk available for the brides in south Indian sarees. Pure silk and Madurai silk with hand woven zari work is finest in states of Tamil Nadu and Kerala.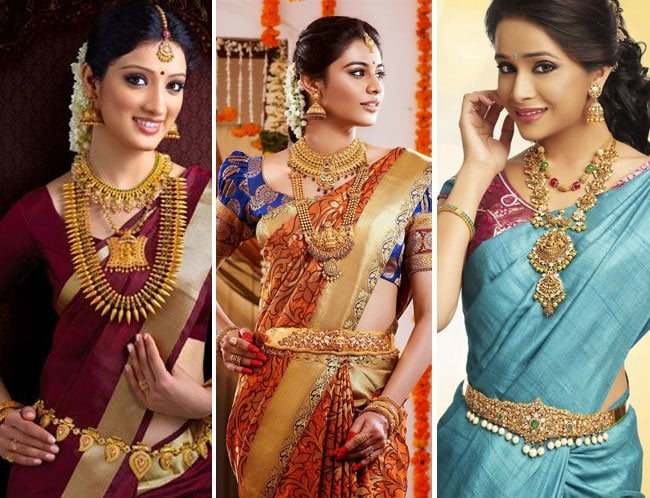 North and western Indian designer bridal sarees
Punjab, Haryana, Uttaranchal, Delhi, Rajasthan, Gujarat, Madhya Pradesh and Maharashtra are dens where designer sarees are mostly worn by brides. These include the traditional Paithani saree, Chanderi, heavy georgette, leheriya etc. these sarees are particularly designed for the most special day of a girl's life. Paithani sarees are hand woven fine rich silk sarees. Famous for its oblique square design, these golden silk sarees have a definite peacock design in the pallu. It has a kaleidoscopic effect with golden zari work both length and width wise. Chanderies are the famous fine silk of Madhya Pradesh and used to be worn by the Royals only once upon a time. The hand woven Chanderi sarees on Kataan or the Pattu silk is an expensive and sophisticated bridal choice. Several varieties and designs of Georgette are also available as bridal saree. These are heavy embroidered sarees with amazing border and pallu works. The leheria of Rajasthan is a stunning piece of work in North India. The tie and dry fabric is a blend of minimum two colours. The multi colour ones are so winning and attractive with its embellishments. The lehria Bandhez with lace finishing at the borders with latkans are superlatives as bridal wear sarees. Designed perfectly with all metal decors and laces, these designer sarees are accessorised with Jaipuri jewellery, bags and shoes.

East Indian designer bridal sarees
Banarasi silk steals the show in most weddings in Eastern India. The heavily charismatic Banarasi silk with golden or silver zardosi work looks delightfully outstanding on any bride. First choice of the Bengalis, banarasi sarees are worn as bridal dresses in West Bengal, Bihar, Odisha, Uttar Pradesh Jharkhand. Red or maroon Banasaris are the favourite choice of brides here. Along with Banarasi are the Brocades. Found mainly in metal colours the designer brocades fetches attention and gives the bride a striking look. Georgette and Tussar designer sarees are also hot picks these days. Tussar brings out the ultimate calm and sophisticate look of the bride and are comfortable during summer weddings in tropical states.